A private stroll garden & Azumaya
Historic property, Adelaide Hills.
With a book in one hand, a short walk takes you to your own private sanctuary. Enter through the bamboo gates. A shady mossy path leads you to a stone water basin. Pick up the bamboo ladle, wash your hands and purify your soul.  From here, the sky begins to open up.  You begin a journey through the wild yet manicured landscape. The path meanders alongside and over the creek. Dew drops are sitting on the Hydrangeas. Rolling meadows of Sasa bamboo. Mollis Azaleas hang their peachy orange flowers. A stunted Radiata pine sits on top of a mountain like an ancient sculpture. A testament of time. The arched wooden bridge guides you over the waterfall and you arrive to your Azumaya by the pond. Looking back, the garden is revealed in its totality. The sunlight is leaking through the silhouette of the trees. The sound of water ever constant. This is a safe place. This is your private sanctuary.
Fumio: "This garden was made in 2001, and the project took 6 months to complete.   I began by removing over half of the existing pine trees to bring light into the garden.  The 50m long water stream was marked out for excavation and the concrete base for the stream and the pond was set.  Over 30 tons of rock was placed one by one to choreograph the stream and waterfall.  I worked with Master Carpenter Ian Mcpherson, who has deep knowledge and experience in Japanese carpentry. He did an amazing job of creating the arched bridge and the Azumaya.  Some existing trees were utilized, but the majority comprising mainly of Japanese maples, pine, azaleas and plethora of conifers were planted from sapling. 20 years on, the garden is beginning to take shape. It will only get better over time."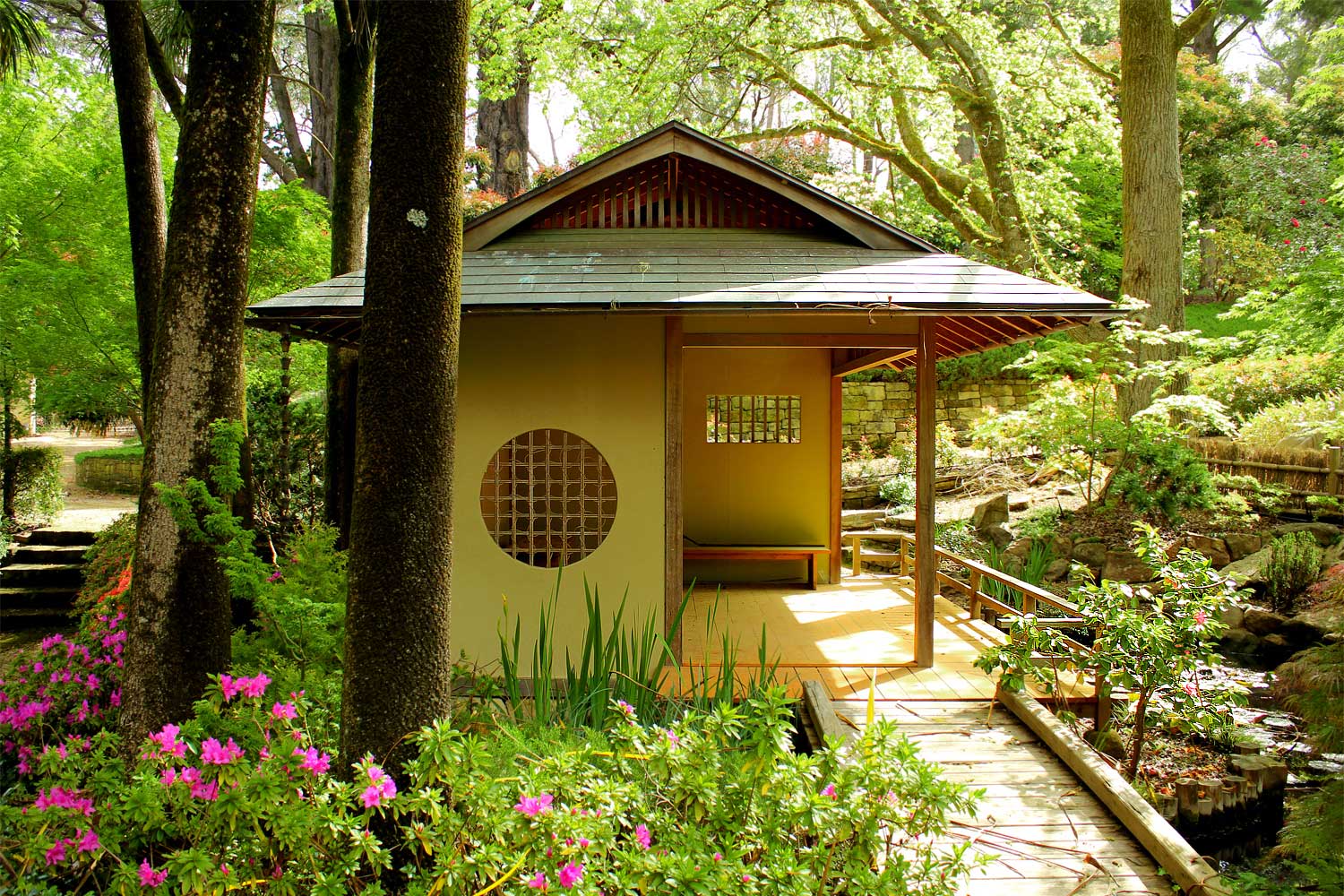 Curved wooden bridge entrance to Azumaya pavilion. All materials sourced from and handmade in Australia by Ian McPherson. Giant Cordyline trees, likely planted by first owners, protect the southern aspect.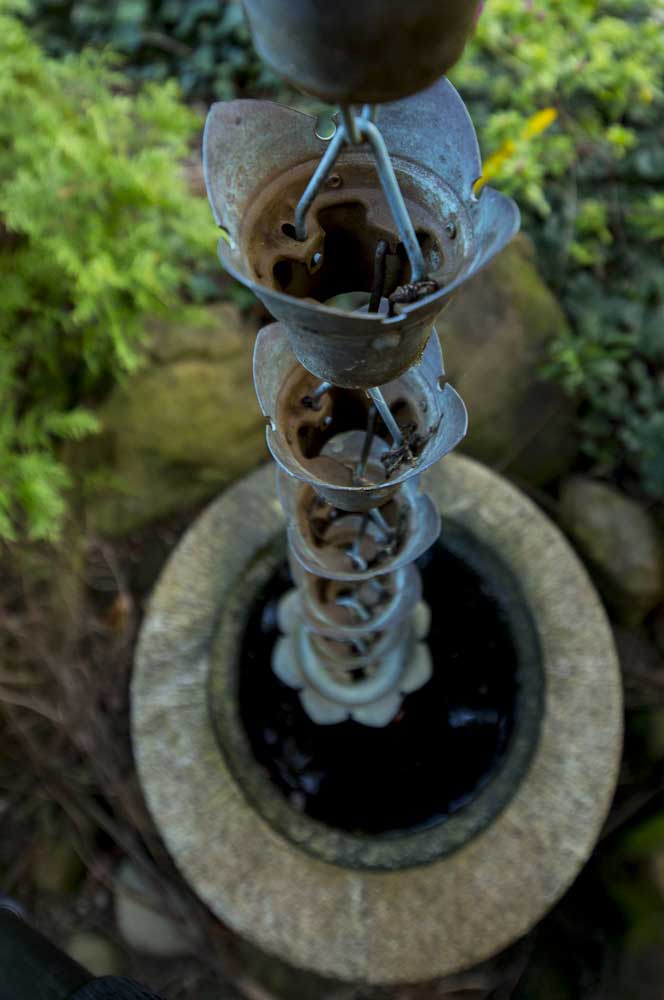 Copper rainchain and granite 'Kesa-bachi' water basin sourced from Japan. [Photo: Chris Oaten]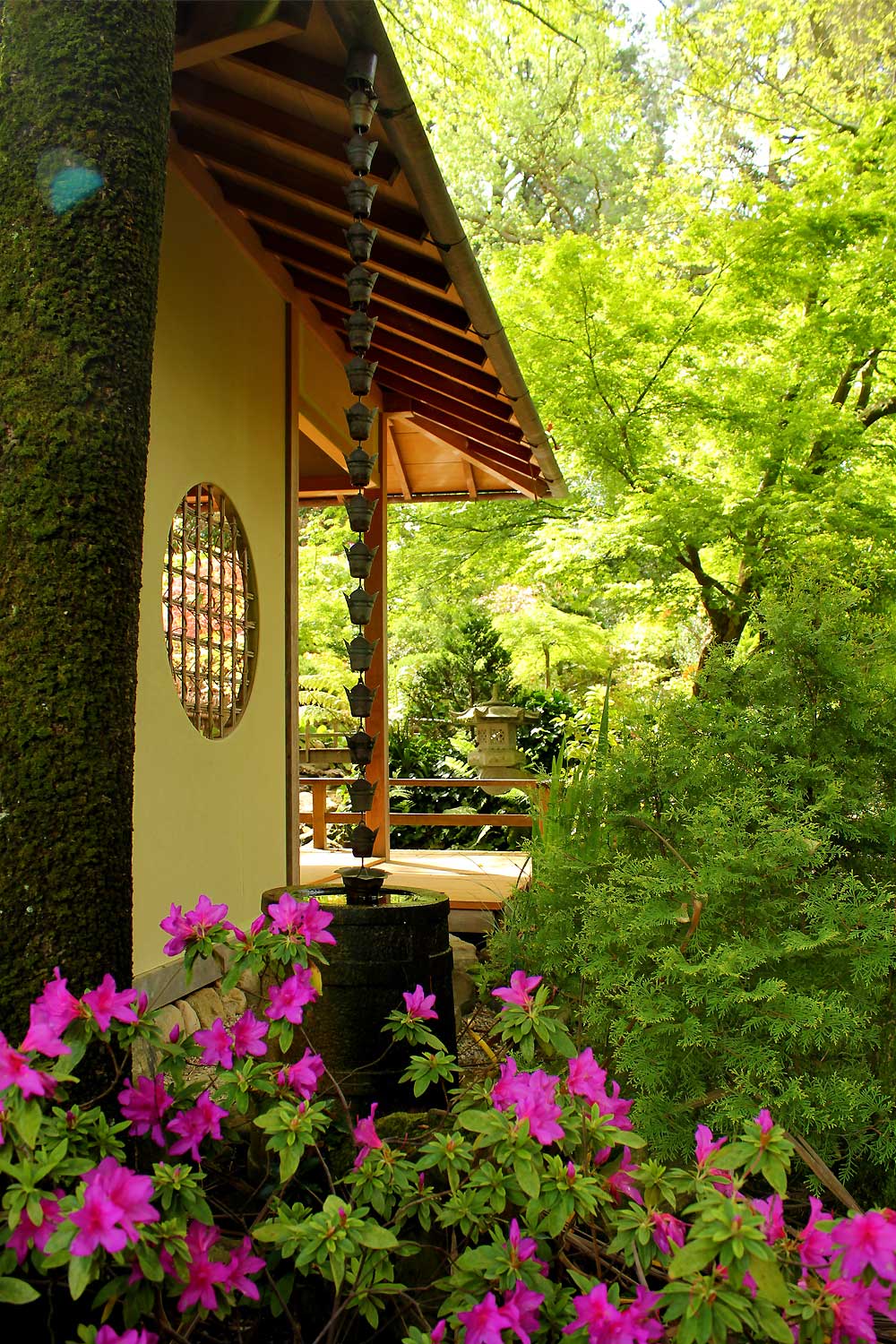 Azaleas looking up at the fine woodwork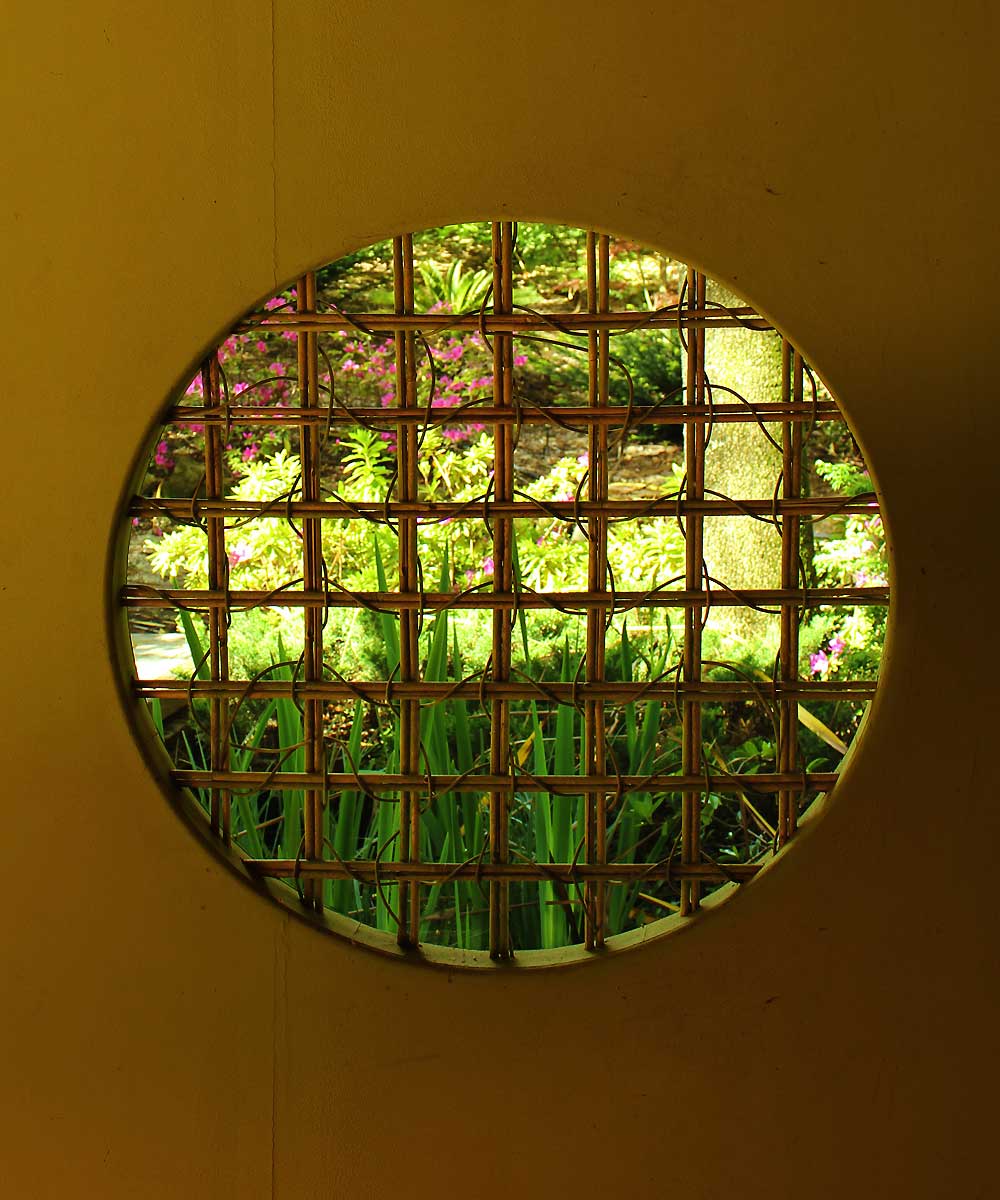 Bamboo lattice window woven with vines. Water iris soon to begin flowering.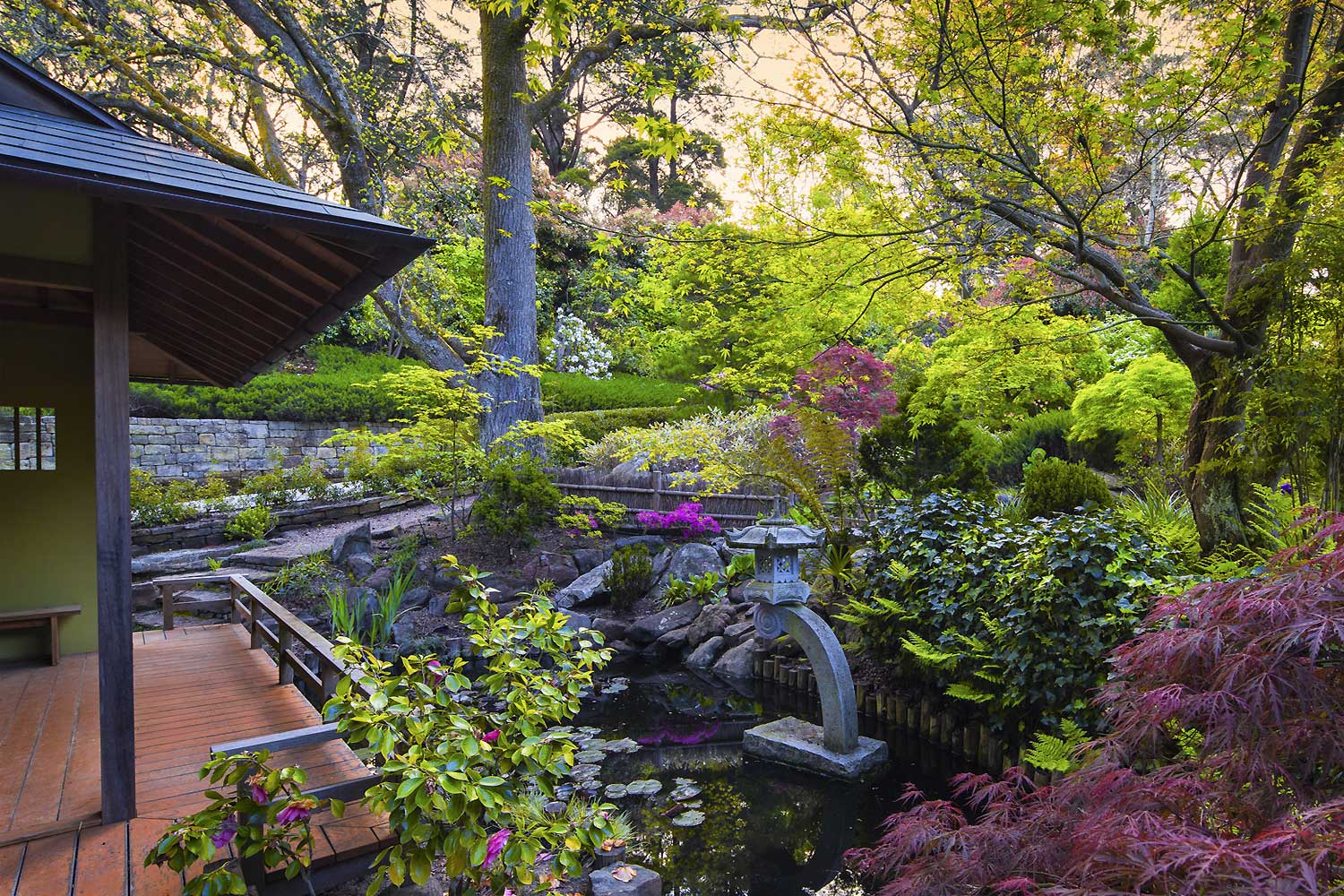 The sunset painting the clouds above. The iconic curve-legged Ran-kei style Yuk-mi-toro (snow viewing lantern) glowing by night. [Photo: Chris Oaten]
The purple laceleaf maple (acer palmatum dissectum atropurpureum), is used consecutively in this lush 'green' setting. The contrasting colour reminds viewers to appreciate the depth of the view. [Photo: Chris Oaten]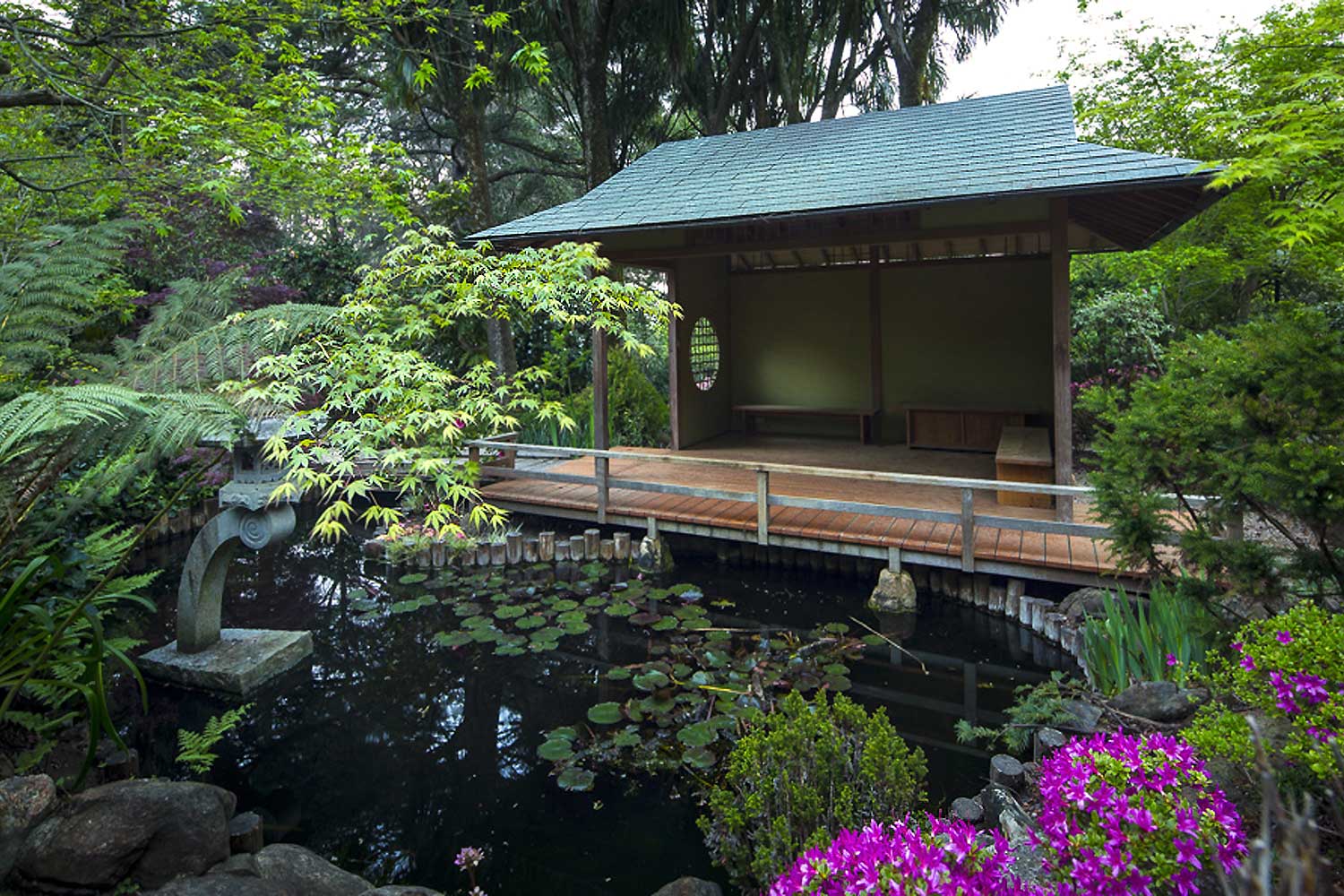 View of the Azumaya from the arched bridge. The Japanese maple reaching out the be seen. [Photo: Chris Oaten]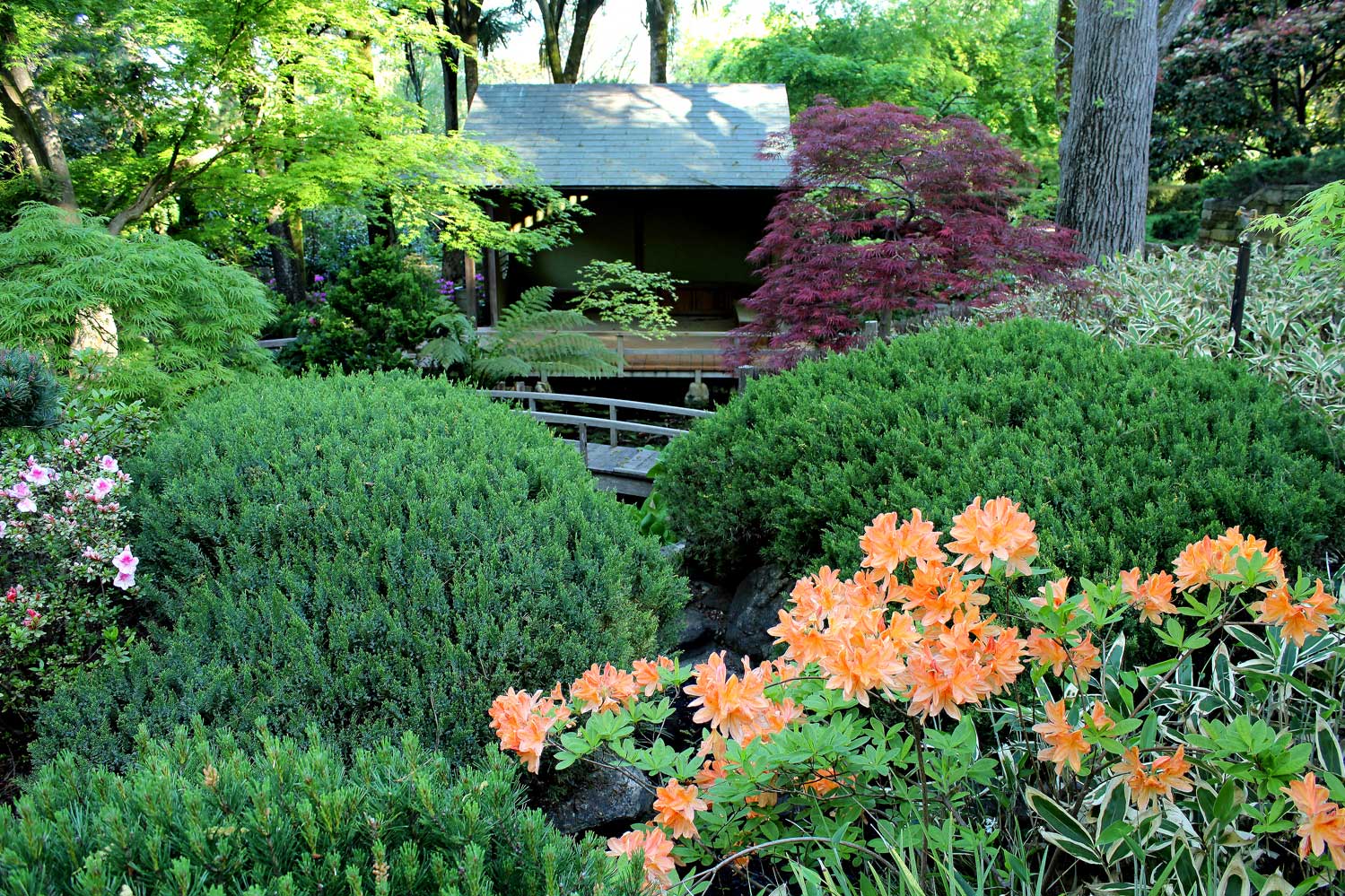 Meandering back up the path, the arched bridge is subtly revealed. The juniper mounds have a soft silhouette to suggest a Japanese cedar mountain. This is achieved by pruning with hand secateurs rather than shears or trimmers.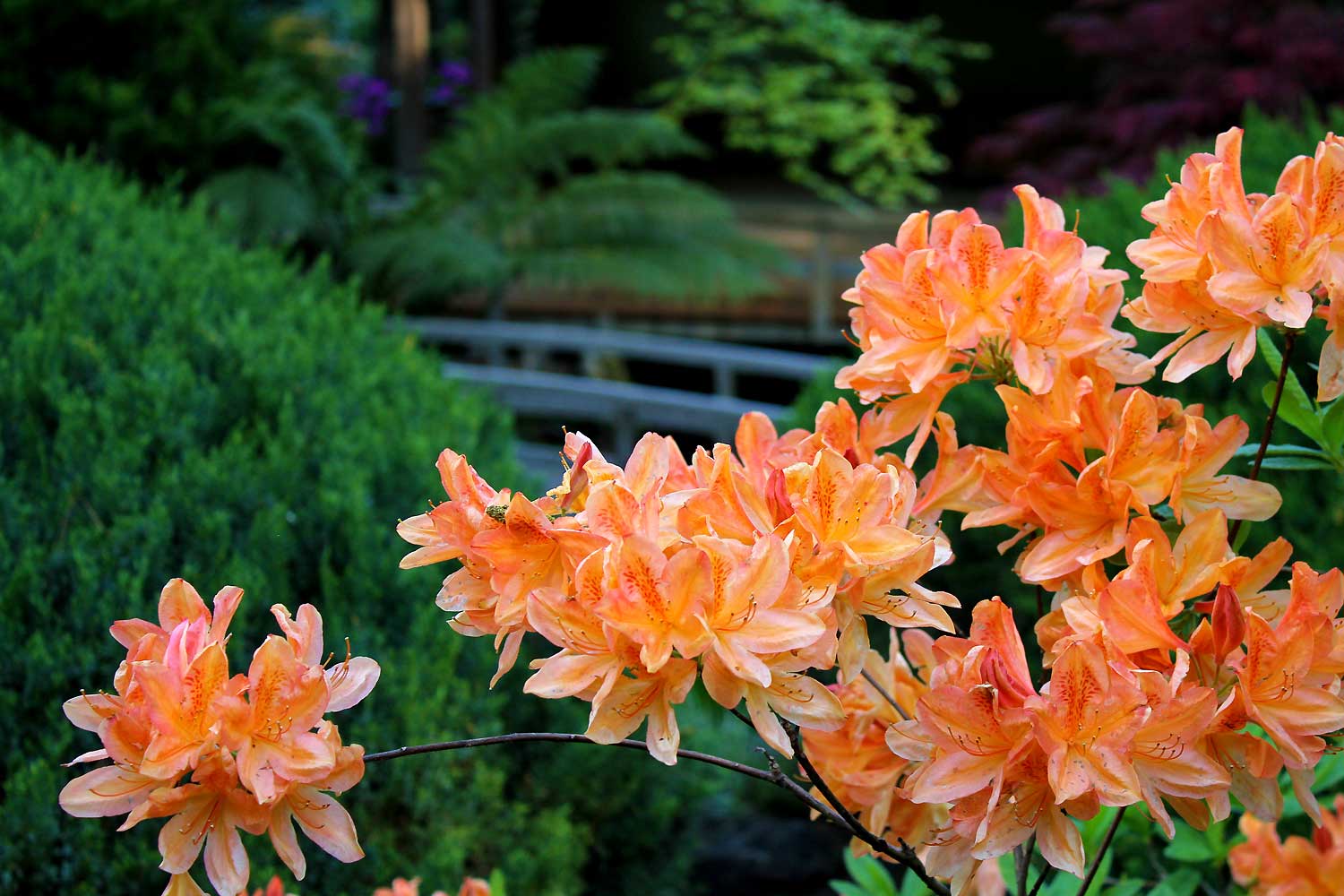 Mollis Azaleas beaming with life against the juniper mountain. This azalea can be found growing wild in the highlands of central Japan.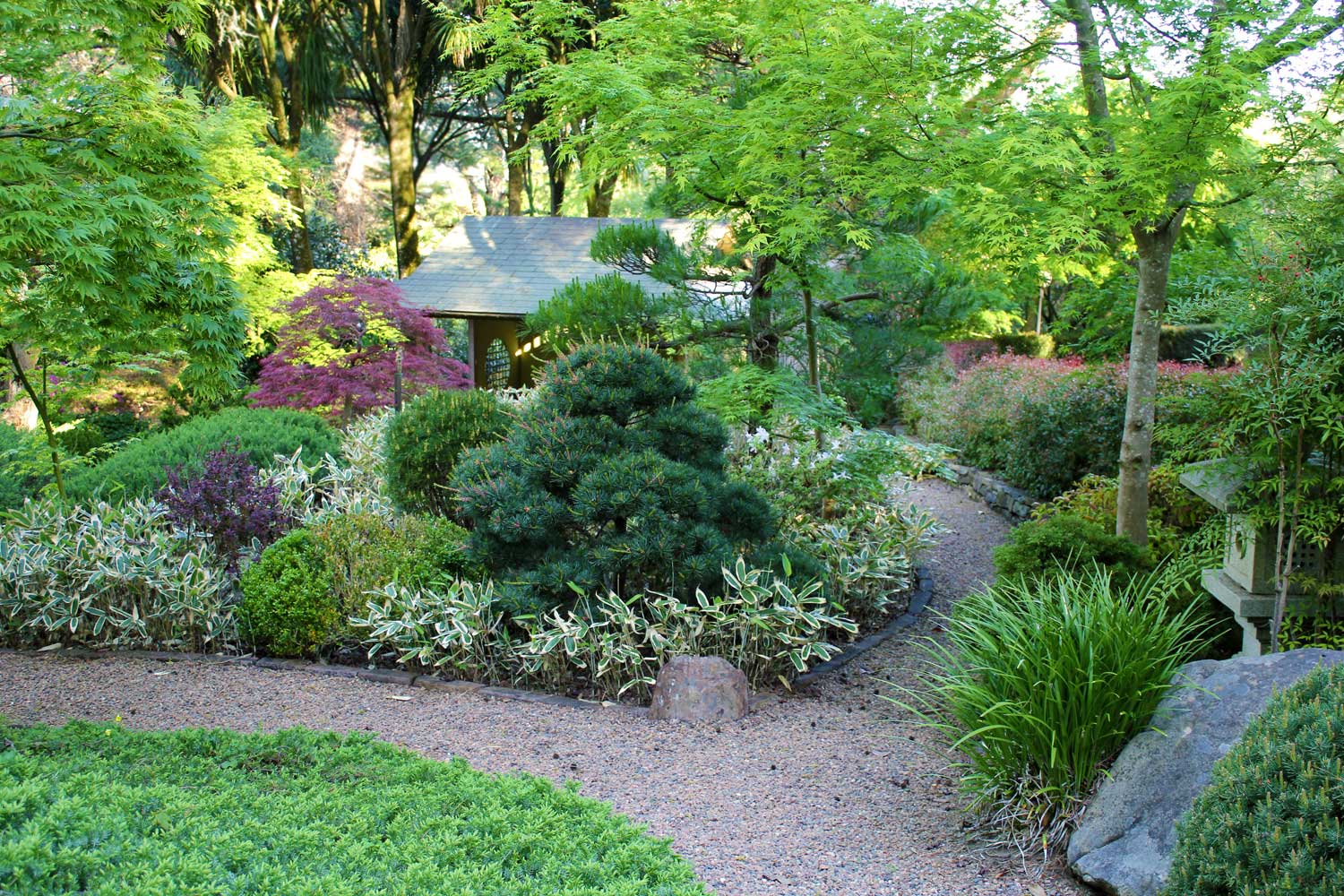 The path to the left takes you through a meandering stepping stone path to the pavilion. The path to the right takes you directly to the pavilion. Eitoku-ji style lantern guides the tour by night. Stunted mountain pine (pinus mugo) on the corner approaching Summer de-candling.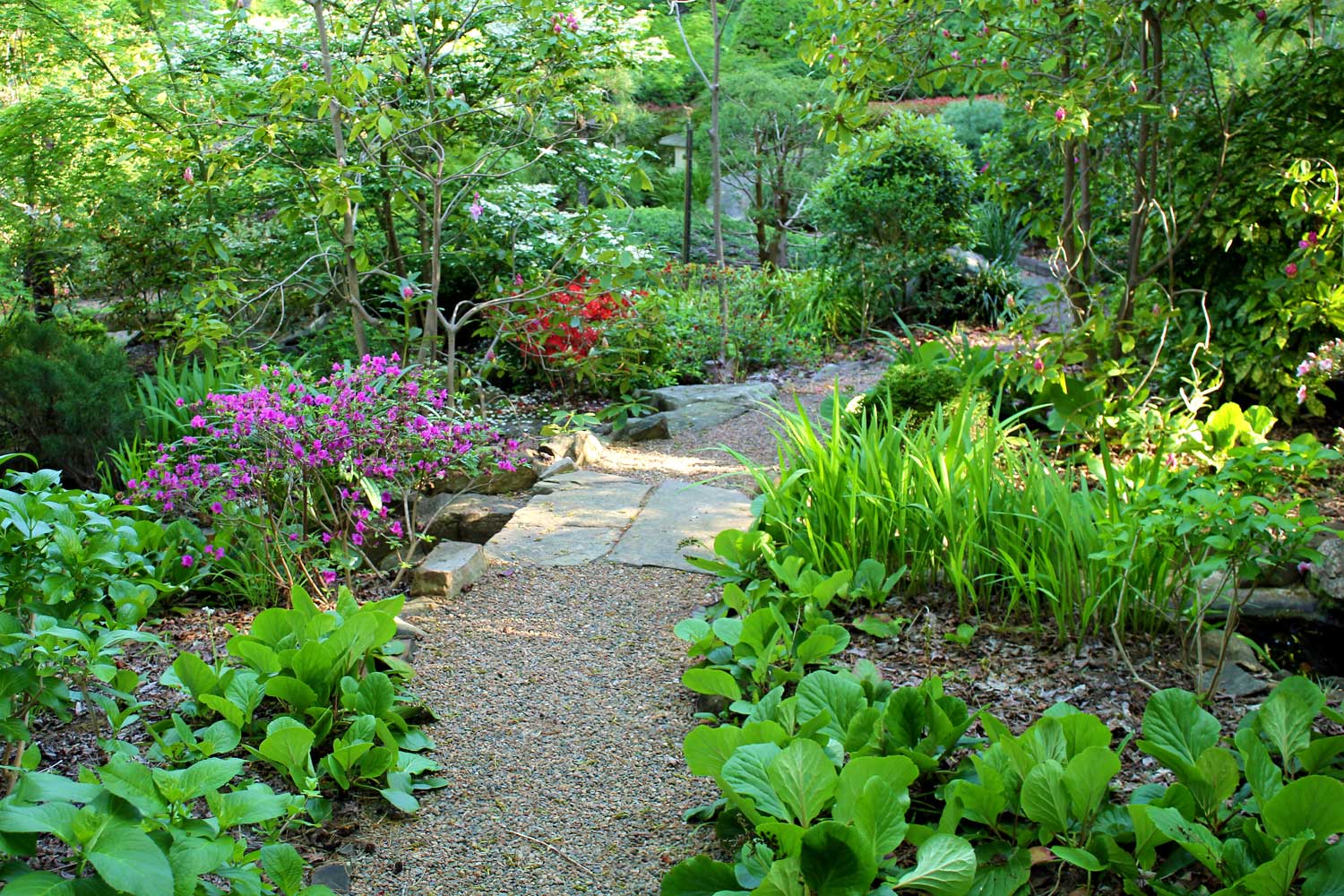 Lush mix of plantings to ensure a surprise for every season.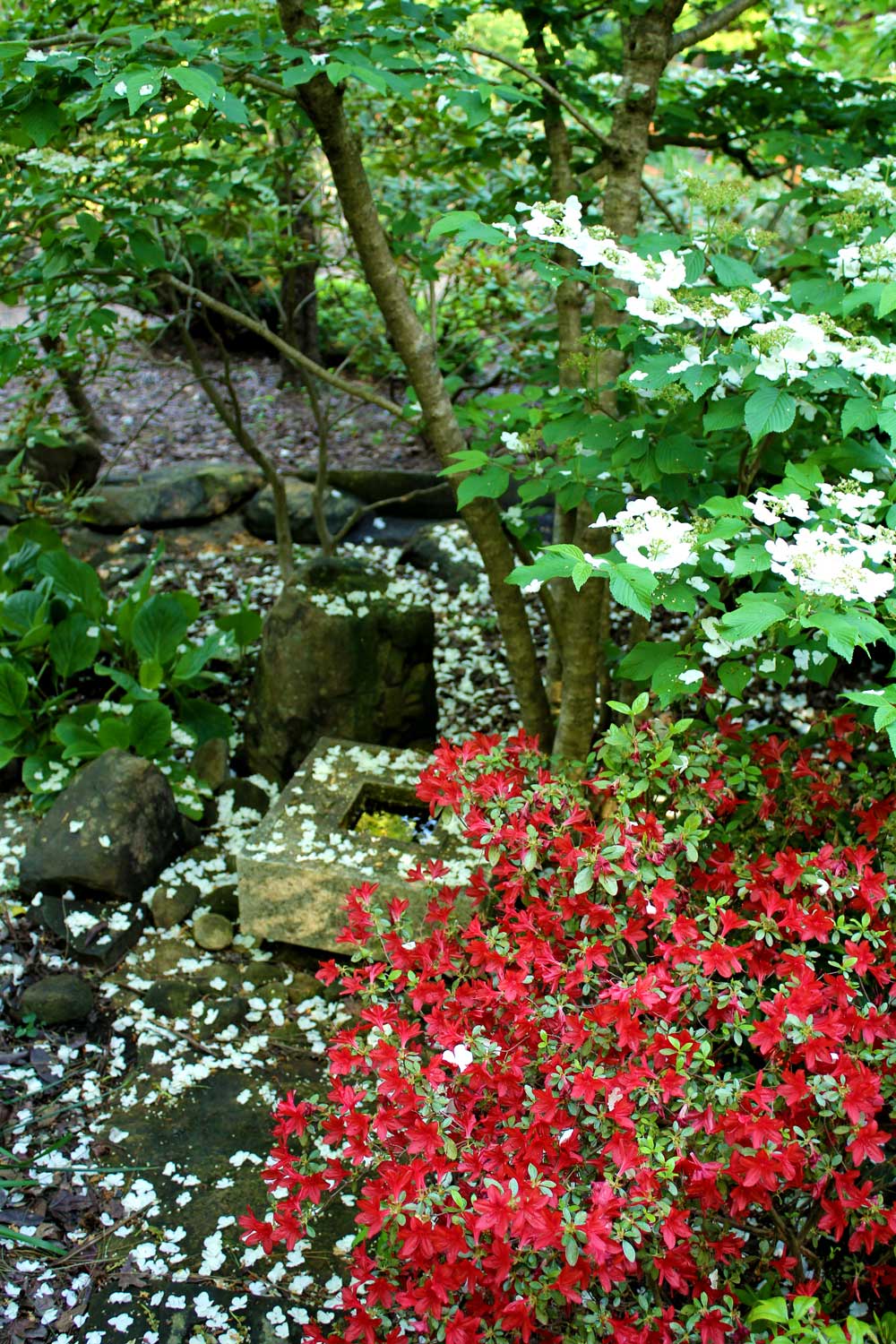 Deciduous viburnums and evergreen azaleas decorating the tsukubai water basin.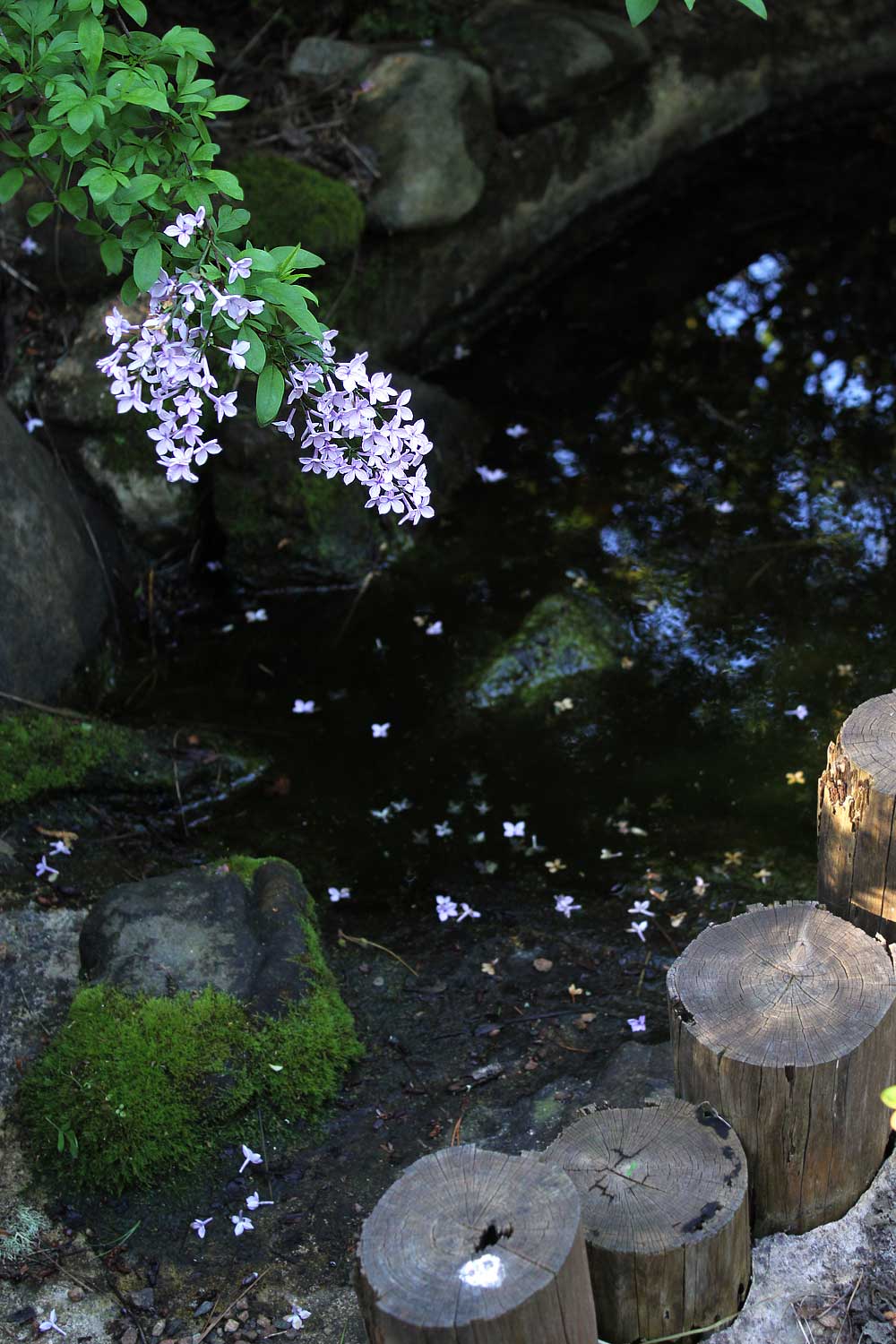 Lilac (syringa vulgaris) cascading down. Cypress posts retaining the bank of a creek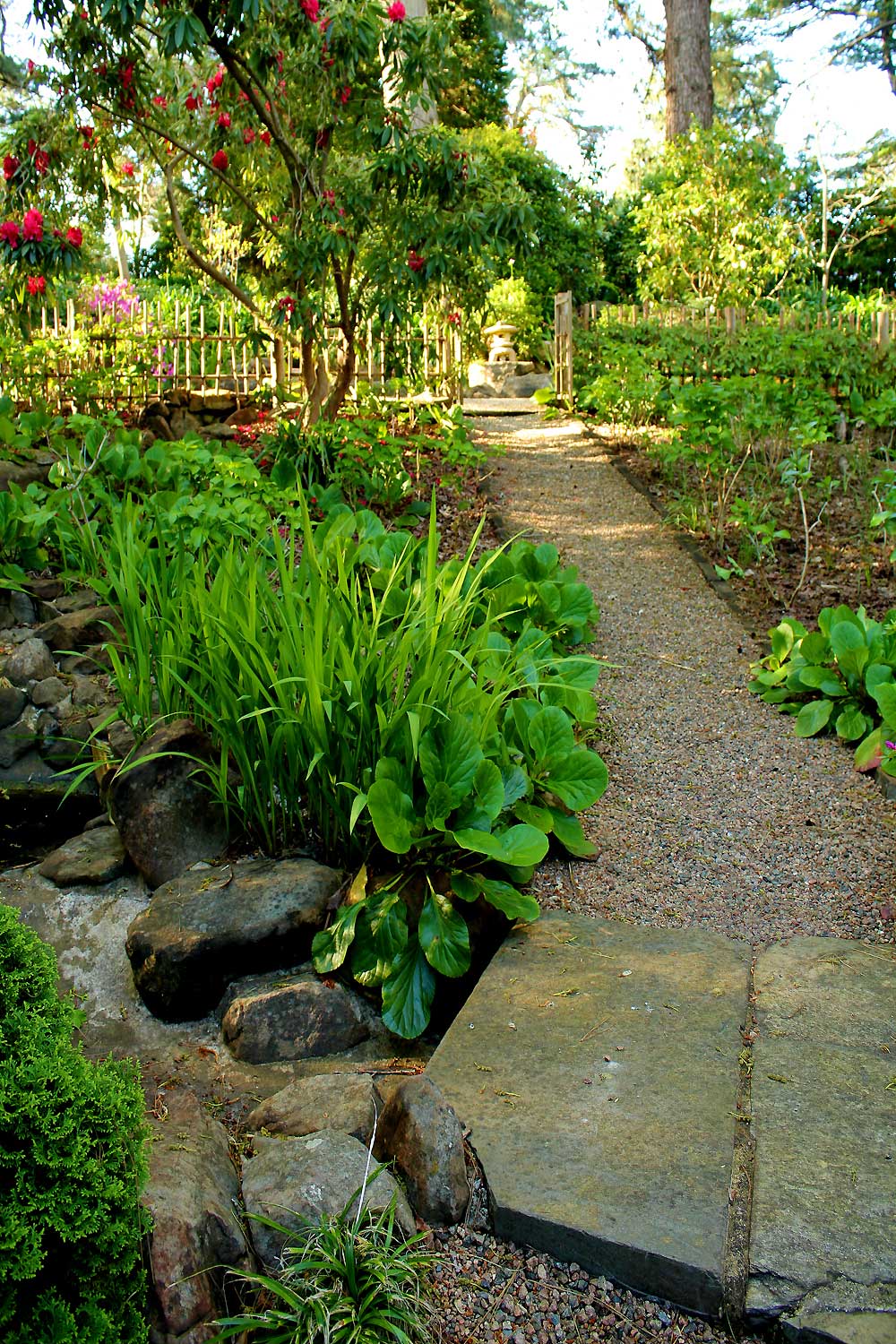 Small slab bridge. The path leading back to the entrance of the garden.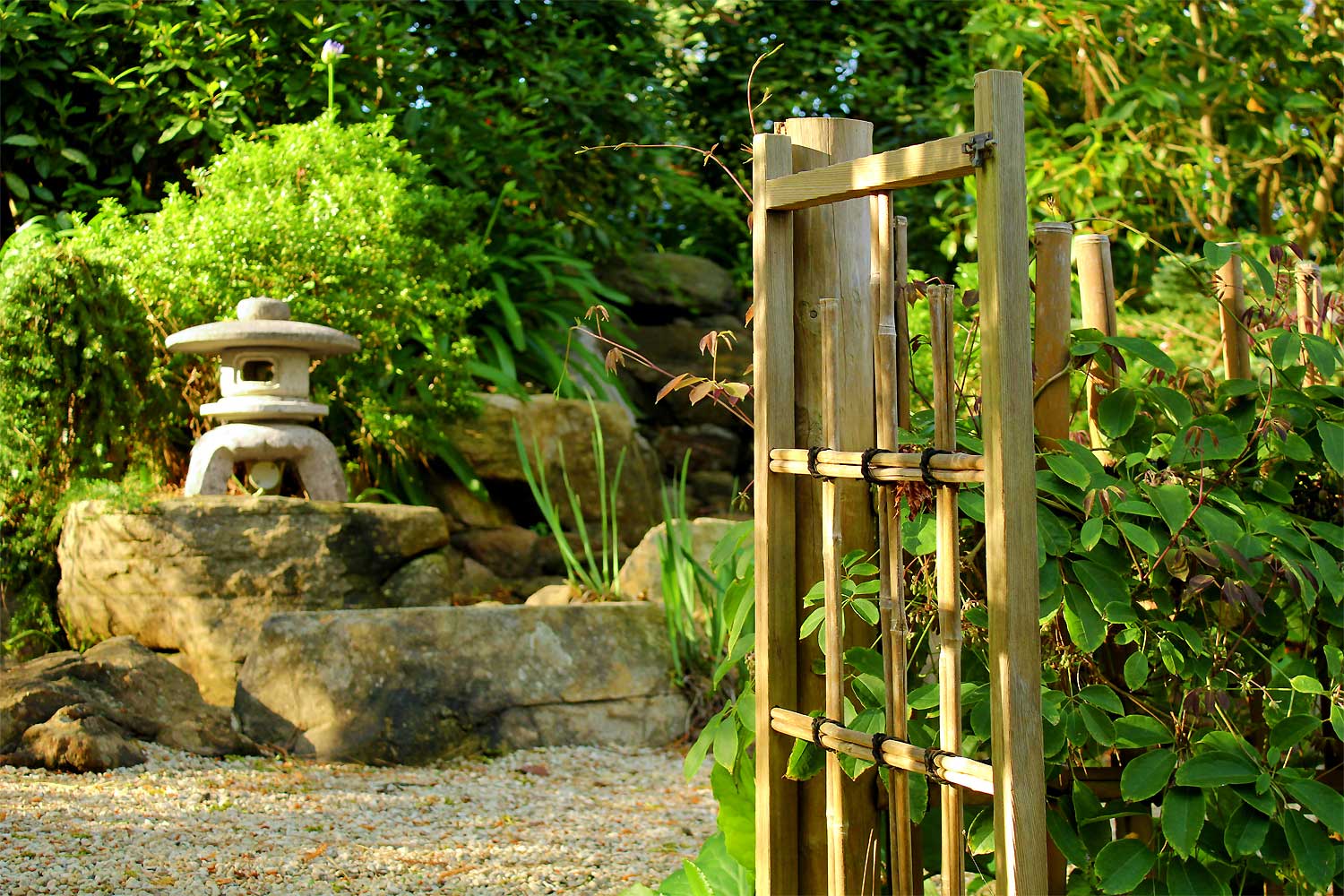 The chocolate vine (akebia quinata), working its way around the Yotsume-style bamboo picket fence and gate. Kodai-style round Yukimi-toro (snow viewing lantern) to light the entrance by night.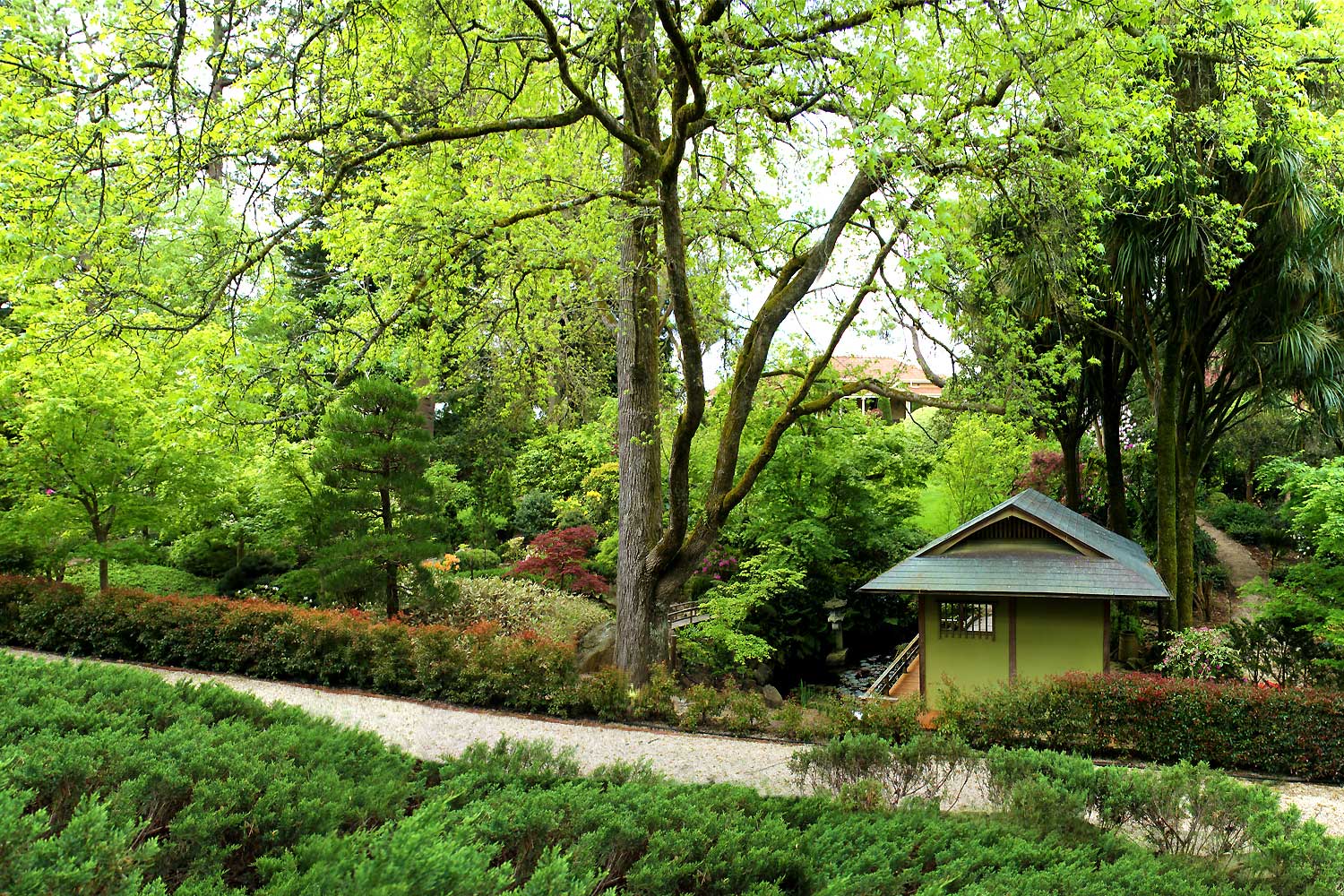 Looking back at the garden from a distance, soaring Sweetgum (liquid ambar) shelters the garden from the mid-Summer sun. Locally sourced pine (pinus radiata) is now transitioning from development to refinement. It will be kept at around 12ft in height and will become the 'king tree' of the garden in another decade's time. The garden was purposely built adjacent to the driveway, separated by a low lilly pilly hedge (syzygium smithii), so the garden is visible on a daily basis.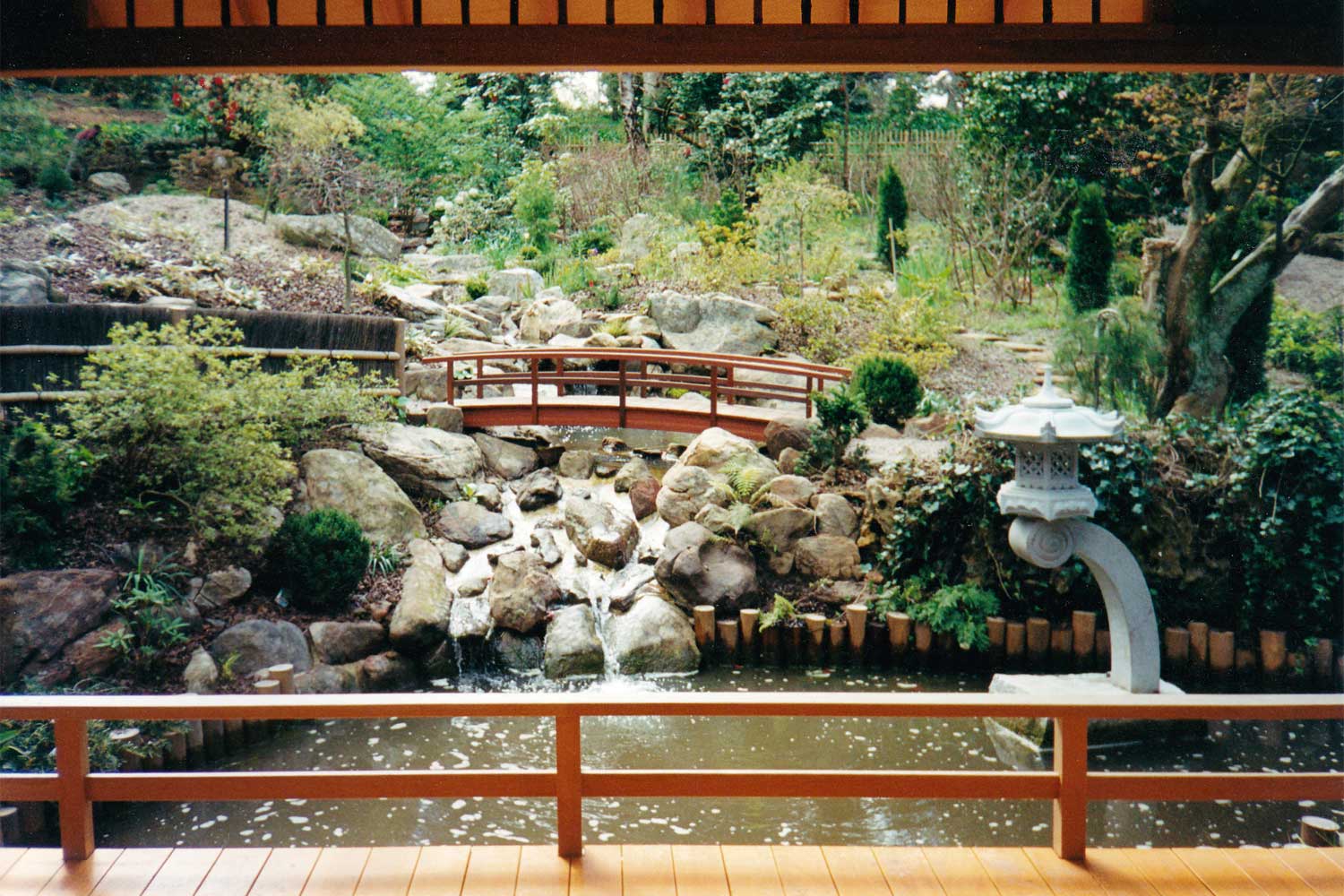 BEFORE: This is the view of the garden from the Azumaya pavilion shortly after the garden was built. The saplings were still stretching their roots at this point.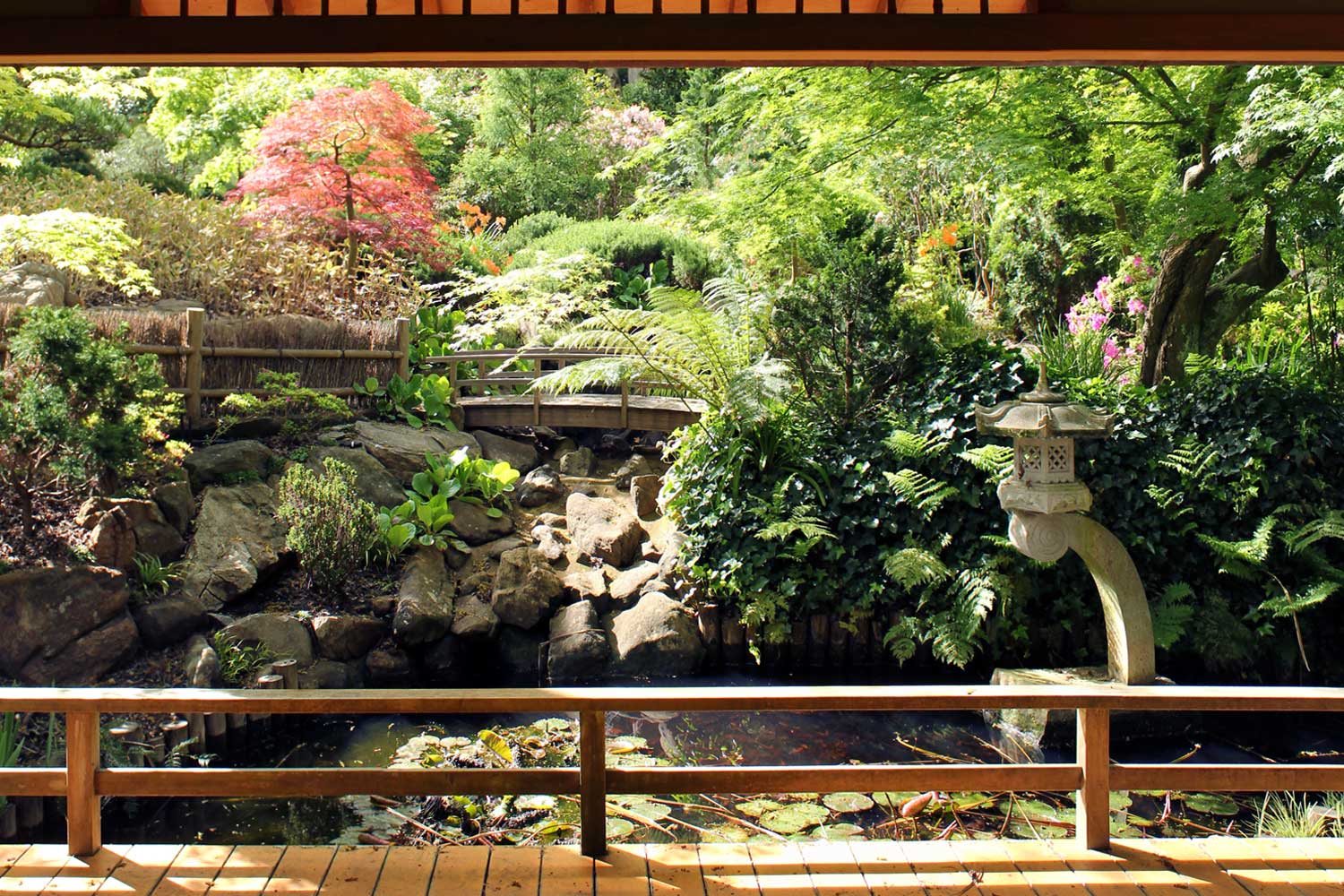 AFTER: This is the same view after 15years on. The plants have grown to create the desired effect of layered mountainscapes. The key to a successful stroll garden is creating consecutive pockets of interest. Revealing the garden one step at a time.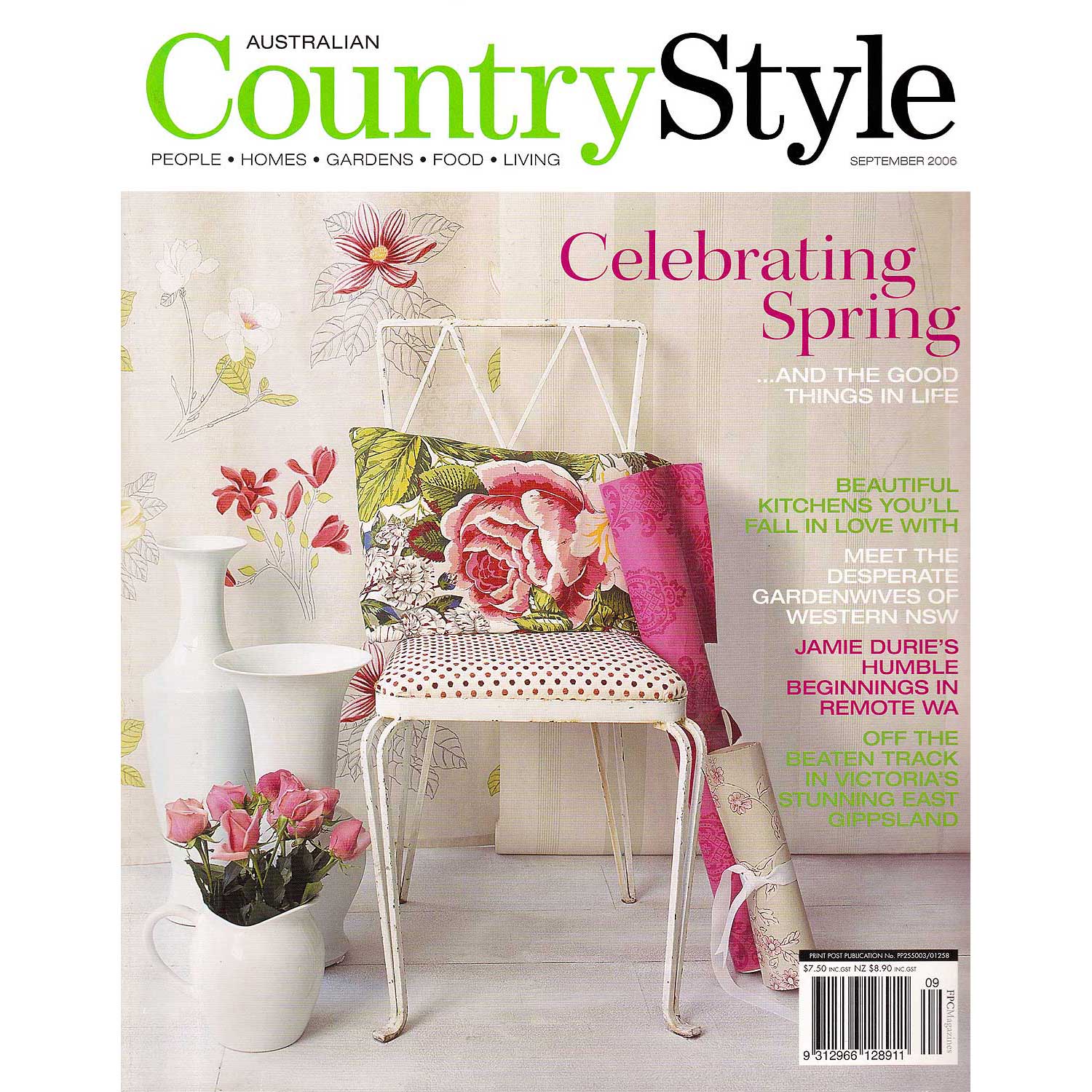 Australian Country Style "The Slow Garden"
[excerpt]
The Lakes had holidayed in Japan and were struck by the subtlety, the detail and symbolism of its garden culture. Once again they, sought expert help.
Fumio Ueda, a Japanese master gardener based in Australia since 1992, dug a path for a bubbling stream, built fences and gates of bamboo and twine, and created mossy nooks. Meanwhile designer Ian MacPherson planned and constructed an azumaya (open pavilion) using traditional methods. And each year, horticultural specialist Kentaro Kimpara flies from Japan to prune trees and shrubs in the Japanese 'cloud' style, emphasising the beautiful form of branches and trunks.
Stephen still has plenty of room to apply his own expertise. He does much of the planting and tries to spend at least a day a week in the garden; he also visits cool-climate nurseries in Victoria to indulge his passion for rare trees. He has definite opinions on design: "Even a large garden like this can feel small if there are no pockets of interest to make you pause, or wonder what's around the corner. That's why I've included areas like the woodland and Japanese gardens, and lots of paths and hidden places, each with its own focal point – a simple seat, bowl or sculpture." After a decade, Stephen and Amber know that a garden like Thorpe requires the long view: "A garden is a living, constantly changing piece of art and we've only just begun sketching in the details," says Stephen. Although he had purchased truckloads of advanced plants and employs a part-time gardener to help with general maintenance, this is clearly not for any 'instant' effect. In fact the couple hopes to still be around for many a long year to see what has become of the saplings Stephen planted 10 years ago. After all, a decade is but a few extra centimetres around the trunk of a tree. Stephen and Amber have no desire to hurry past that special plant blooming for the first time, or miss the delicate lilies-of-the-valley pushing through the humus each spring, the sweet scent of viburnum in summer and the brilliant coat of many colours that is the tree canopy each autumn.
For the Lakes, each year they spend in their garden is a journey within a journey, every season and day an opportunity to savour. Why rush such precious moments when the rest of life is short and busy enough? Fortunately, in their beautiful garden, there is always time aplenty.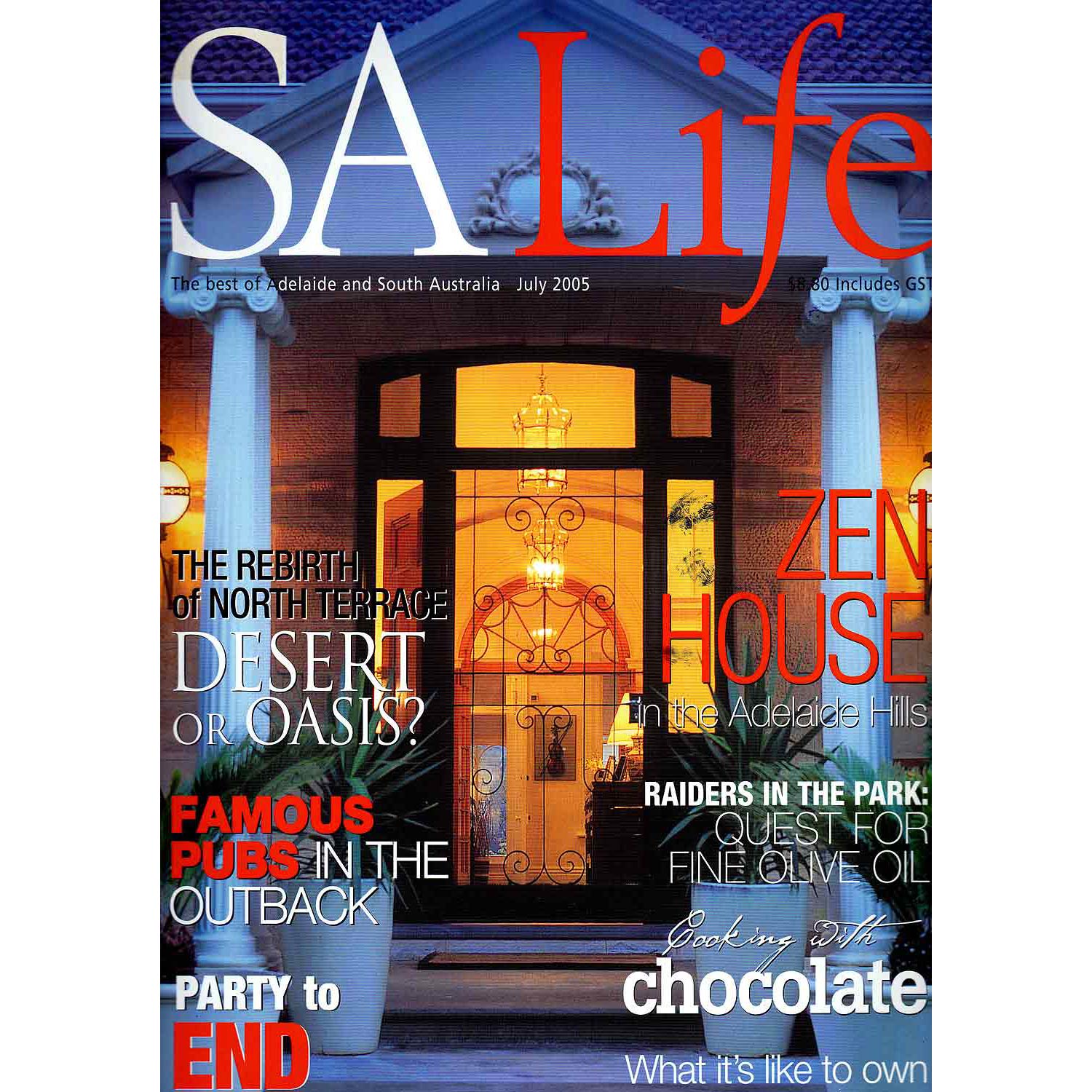 SA Life magazine "Zen House in the Adelaide Hills"
WORDS MARIE DANVERS PHOTOGRAPHS PETER HOARE
[excerpt]
It was love at first sight for Amber and Steve Lake, and who could blame them. Thorpe, the object of their affection, is one of Stirling's most notable 19th century mansions nestled in the centre of two hectares of garden. And in their hands Thorpe today looks as magnificent from the outside looking in as it does from the inside looking out.
Moving to Adelaide in 1996 after two years in Hong Kong, Amber and Steve Lake heard over dinner from a young acquaintance who had grown up there that Thorpe was on the market. Driving along Ayers Hill Road the next day they found it, peered through the hedge and the rest, as they say, is history And Thorpe's history reads like a Who's Who of Adelaide's colonial elite, many of whom built summer houses in Stirling because of its proximity to Adelaide, cooler climate and resplendent English style. Built by Dr Charles Gosse in 1881, Thorpe was bought by Ernest Ayers, a son of Sir Henry Ayers, five years later. Relatives of Sir Henry occupied other mansions in the district, including Forest Lodge and Villa. The family gave its name to Ayers Hill Road along which many other fashionable summer houses were built, the Scottish Gothic style Bythorne for one. Thorpe remained in the Ayers family until 1962 when the entire estate, then 25 acres, went up for auction, after which parcels of land were hived off and sold. The Lakes are only the sixth owners of Thorpe in its 124 year history.
Outside features are an orchard, tennis court, pool and whimsical Japanese azumaya (pleasure pavilion) and garden, with the pavilion at the base of a rambling watercourse. Built by Japanese Master Gardener, Fumio Ueda, the garden is an "anxiety out - Zen in" kind of place, which came about from Amber and Steve's travels through Japan during their sojourn in Asia. "We both wanted a little piece of Japan to stay with us".
"A large garden like Thorpe's is really Steve's thing and he likes to buy the plants, most recently conifers which he loves, and mull over where to locate them. After returning from his interstate offices, where he is for about 30 per cent of the time, he becomes a total dag; throws on an old coat and a big gardening hat and heads outside to stroll around the garden to relax and unwind." Thorpe is now not a formal home, although it does have its formal aspects. We like to think we work as a team to apply the principles of creativity, quality and function so that it and its surrounds are not only very beautiful, but also very lived in. A home, inside or outside.