Pocket garden for a
Healing room.
Lying down on the massage bed, a Chinese healer works her magic. Peering out the window, there's a tiny Zen garden. You close your eyes. The constant sound of water helps you drift away. You are transported to a fairy tale. You're an inch-tall Pixie wondering through a fairy garden carpeted with moss. What seemed to be a small camellia plant is now a giant tree soaring into the sky. Lichen covered rocks have morphed into mountains. The granite lantern appears to have become a monastery perched on a cliff. Hopping from one stone to the next you look down at the waterfall and discover a message carved in stone. These Chinese characters read "I only know plenty…" A giant camelia flower lands on the forest floor. You climb into the soft bed of petals and lie down once more. As the healing session ends, you wake up from your dream. The body and the heart are now content.
Fumio: "The original garden was created in 1998. Almost ten years on in 2017, the owner decided to build a new floating room above the garden. We carefully dismantled the custom-built fence as well as the rest of the garden. Once the renovation was complete, we decided to create an entirely new garden whilst re-using all the key features from before. This garden makeover was completed in the same year and the project took 4 days to complete. Now it's a matter of letting the trees age so that the garden may one day give the impression that it has been there for eternity.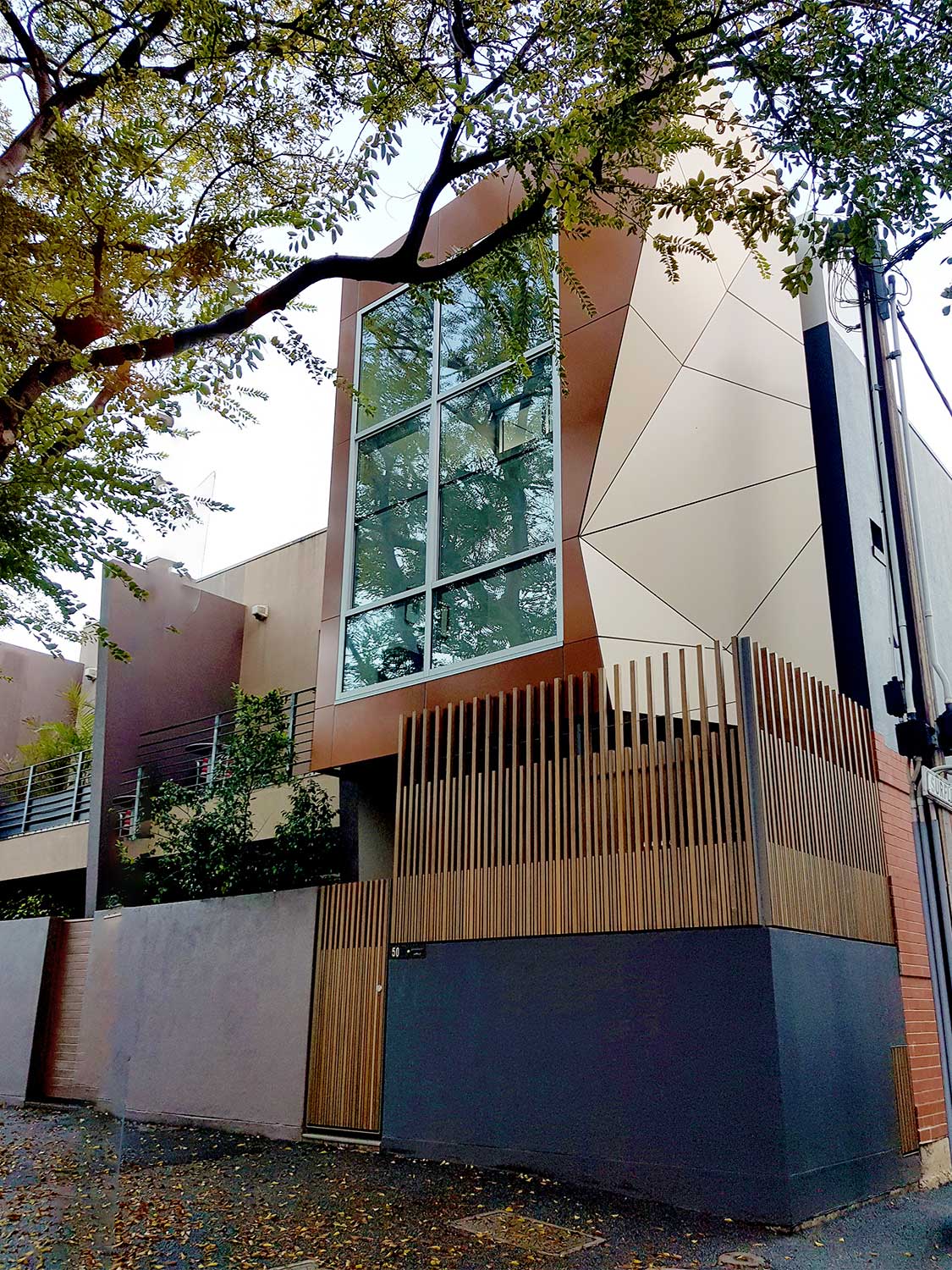 The work of architect John Maitland brings energy to Halifax Street. No one would expect a hidden garden behind these walls...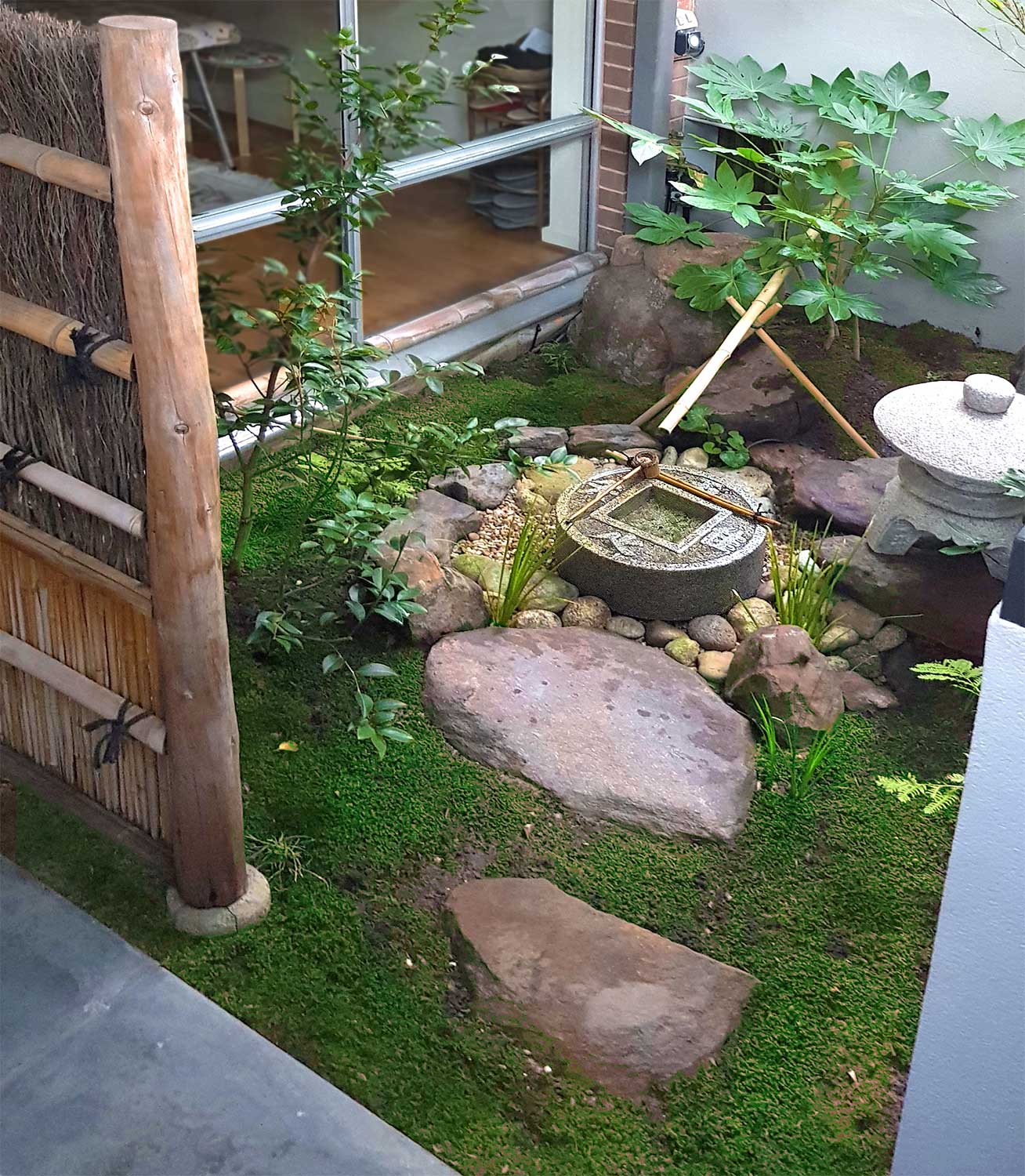 The custom built fence sets the tone for an authentic Japanese garden. Native moss, Australian tender break fern (pteris tremula), camellia (sasanqua), Japanese aralia (fatsia Japonica), Japanese sweet flag grass (acorus gramineus) Japanese maple (acer palmatun). A mix of moss rocks, river pebbles and other collected rocks from over the years frame the water feature. Guests are encouraged to approach the water basin to wash their hands for purification before entering the practice.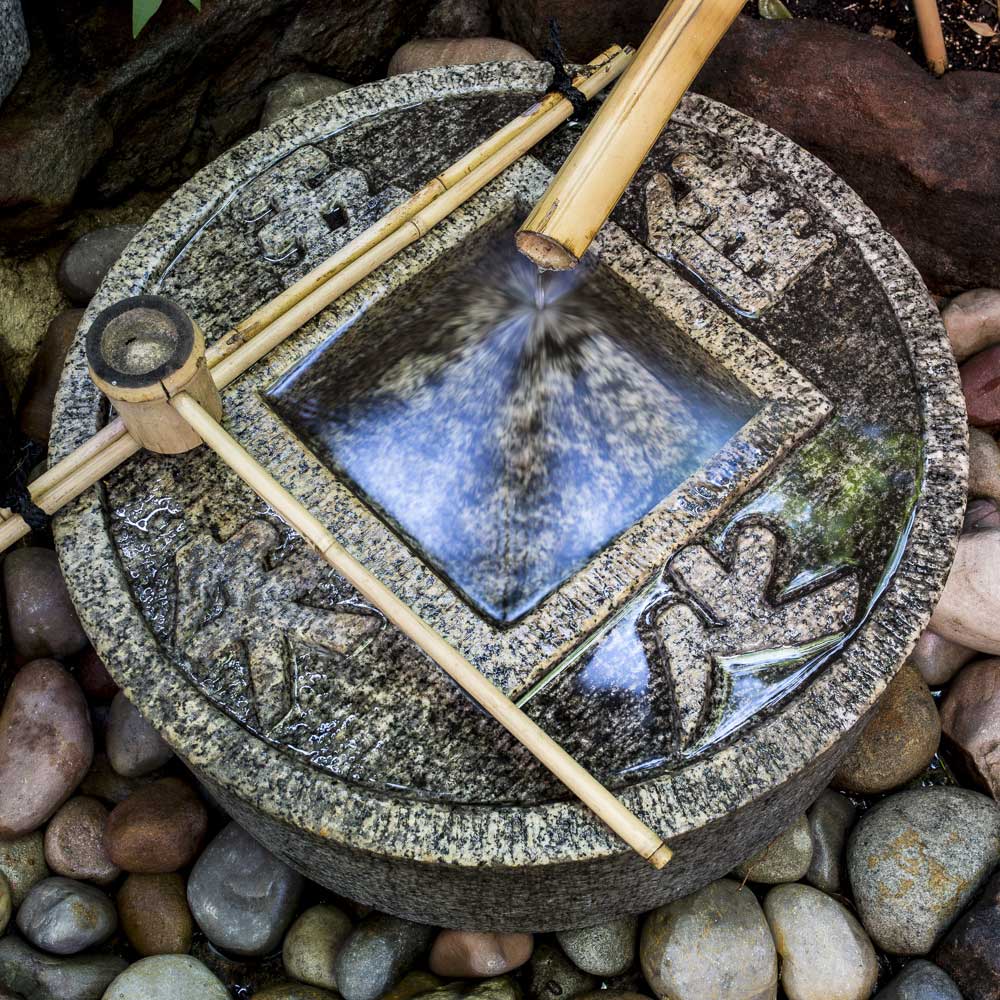 Ryo-anji style washbasin with the four characters Ware-Tada-Taru(wo)-Shiru, literally translating "I only know plenty". Each of the four characters are combined by the character Kuchi "Mouth" at the center of the bowl to make the words complete. Water is circulated and fed by the bamboo spout, or Kakei.[Photo: Chris Oaten]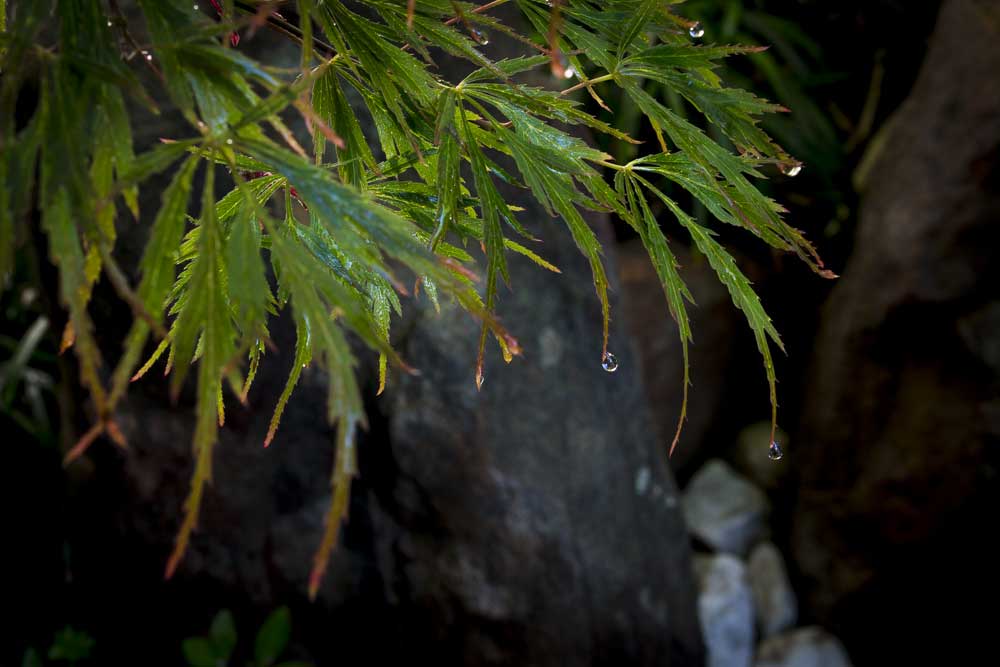 Weeping Japanese maple (acer palmatum dissectum) [Photo: Chris Oaten]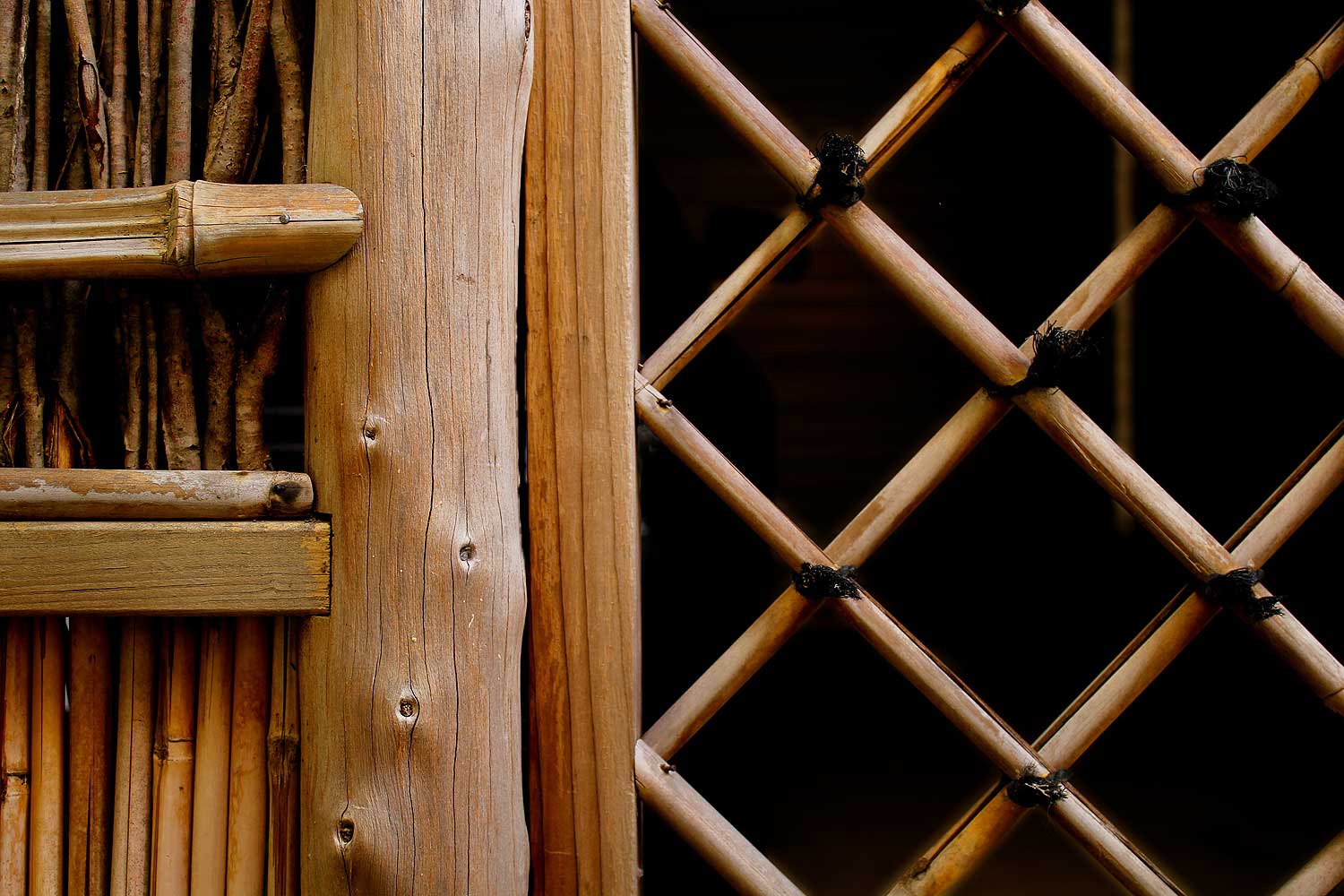 Cedar posts, bamboo, arrow bamboo and native melaleuca was used to make this Sode-gaki fence.
For a simple garden, an elaborate decorative feature such as this can bring some weight into the space.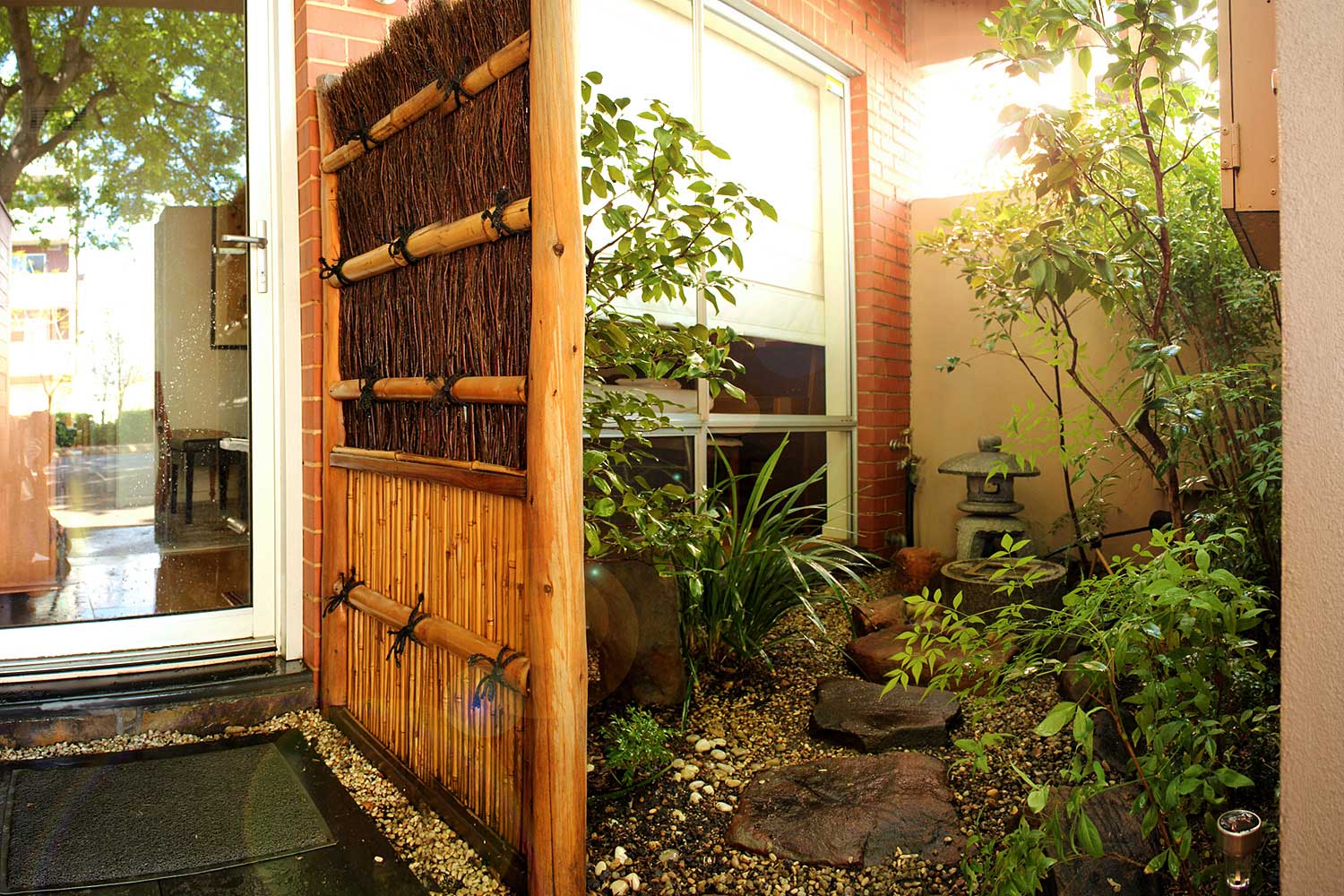 This is the garden just prior the rebuild. A semi-dry garden has now become a dewy moss garden.